Two different meta-analysis (1,2) identify that between 31% to 44% of adult population experience some form of temporomandibular disorders. Other studies (3) reflect that more than half of patients experiencing these disorders might experience pain, having a much higher prevalence in women.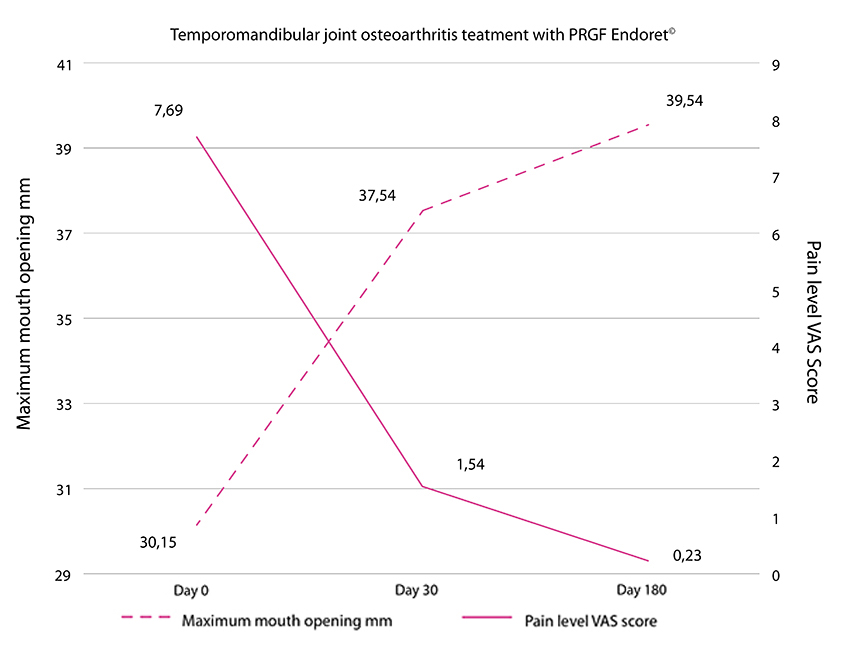 Minimally invasive treatment with intra-articular injections of PRGF-Endoret is predictable and efficient reducing pain and improving mobility of temporomandibular joint.(4)
These benefits are easily perceived by the patient only a few weeks after the treatment, reaching its maximum 3 months later.
Endoret® (PRGF®) has demonstrated in multiple studies its efficacy in:
Reducing significantly temporomandibular joint pain compared with other treatments

(5, 6, 7)

.
Treatment benefits reducing pain and improving mouth opening are maintained over time

(8)

.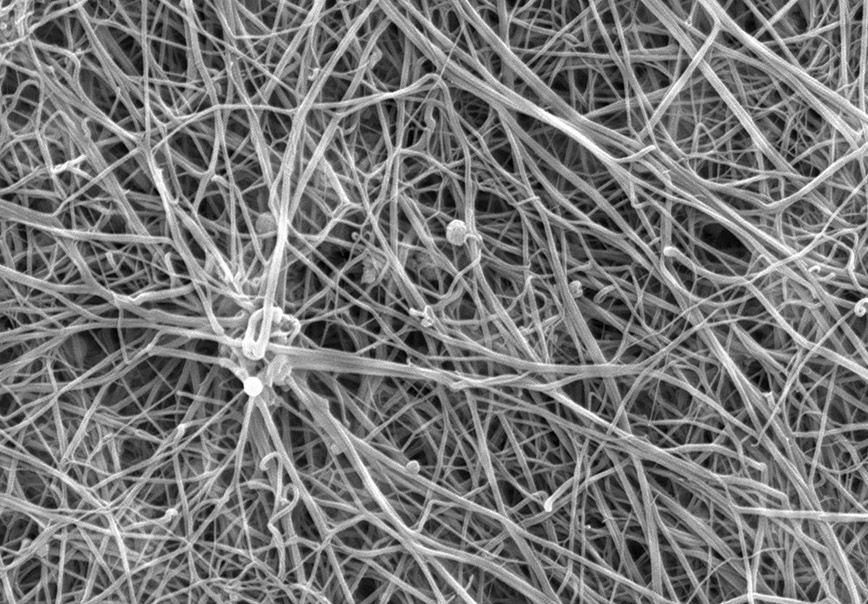 Bibliographical references
(1) Valesan LF, Da-Cas CD, Réus JC, Denardin ACS, Garanhani RR, Bonotto D, Januzzi E, de Souza DM.
Prevalence of temporomandibular joint disorders: a systematic review and meta-analysis.
Clin Oral Investig. 2021 Feb;25(2):441-453. doi: 10.1007/s00784-020-03710-w. Epub 2021 Jan 6. PMID: 33409693.
(2) De Kanter RJ, Truin GJ, Burgersdijk RC, Van 't Hof MA, Battistuzzi PG, Kalsbeek H, Käyser AF.
Prevalence in the Dutch adult population and a meta-analysis of signs and symptoms of temporomandibular disorder.
J Dent Res. 1993 Nov;72(11):1509-18. doi: 10.1177/00220345930720110901. PMID: 8227702.
(3) Pihut M, Pac A, Gala A.
Frequency of occurrence of the pain form of the temporomandibular disorders and gender distribution.
Folia Med Cracov. 2021;61(2):25-33. PMID: 34510162.
(4) Giacomello M, Giacomello A, Mortellaro C, Gallesio G, Mozzati M.
Temporomandibular joint disorders treated with articular injection: the effectiveness of plasma rich in growth factors-Endoret.
J Craniofac Surg. 2015 May;26(3):709-13. doi: 10.1097/SCS.0000000000001534. PMID: 25974777.
(5) Sakalys D, Rokicki JP, Januzis G, Kubilius R.
Plasma rich in growth factors injection effectiveness for myofascial pain treatment in masticatory muscles.
Randomised controlled trial. J Oral Rehabil. 2020 Jul;47(7):796-801. doi: 10.1111/joor.12973. Epub 2020 Apr 21. PMID: 32271467.
(6) Dovydas Sakalys, Dominykas Dvylys, Regimantas Simuntis, Marijus Leketas
Comparison of Different Intraarticular Injection Substances Followed by Temporomandibular Joint Arthroscopy.
Meta-Analysis. J Craniofac Surg. May/Jun 2020;31(3):637-641.
(7) Martín Fernández-Ferro , Jacinto Fernández-Sanromán , Andrés Blanco-Carrión , Alberto Costas-López , Annahys López-Betancourt , Jorge Arenaz-Bua , Bogdan Stavaru Marinescu.
Comparison of intra-articular injection of plasma rich in growth factors versus hyaluronic acid following arthroscopy in the treatment of temporomandibular dysfunction: A randomised prospective study.
Randomized Controlled Trial. J Craniomaxillofac Surg. 2017 Apr;45(4):449-454. doi: 10.1016/j.jcms.2017.01.010. Epub 2017 Jan 25.
(8) Giacomello M, Mortellaro C, Viganoni C, Crimella A, Fossati J, Lauritano D.
PRGF® endoret injections for temporomandibular joint osteoarthritis treatment: a one-year follow-up.
J Biol Regul Homeost Agents. 2019 Nov-Dec;33(6 Suppl. 2):215-222. DENTAL SUPPLEMENT. PMID: 32425037.
Why BTI?
Endoret® (PRGF®) is the first and most documented autologous platelet-rich plasma described in the literature worldwide.
It is important to remember that not all platelet-rich plasmas are Endoret® (PRGF®). Unlike other products, Endoret does not include leukocytes in its composition, which gives it more effective anti-inflammatory properties, reducing significantly the postoperative pain and facilitating a faster recovery with predictability and more patient comfort.
We are BTI Biotechnology Institute. We are devoted to science and Research. For the 6th consecutive year, BTI is the company with the highest number of biotechnology publications in high-impact science journals among local and multinational Biotechnology corporations with offices in Spain.
Visit the Spanish Bioindustry Association (AseBio) website: https://www.asebio.com/en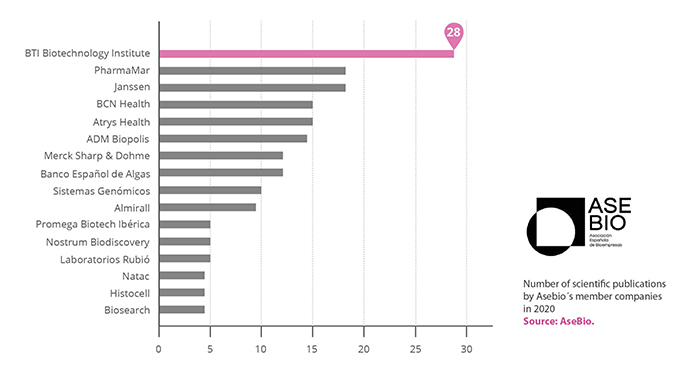 Do you need more information?